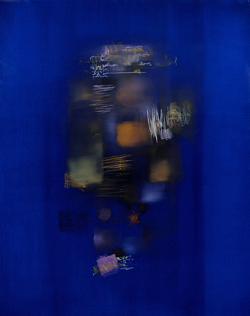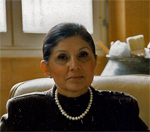 Since 1987, Jumana El Husseini's painting has undergone a major shift: from being figurative and light, to abstract and dark. Her fanciful, stylized scenes of people and cities are now replaced by the reflective images of a search for rebirth.

The paintings are constructed of diffused geometrical shapes floating in well-defined spaces. Articulating those shapes are calligraphic areas that shed both physical and spiritual light on this darkness. They are reminiscent of Middle Eastern cities at night. With their shimmering translucency, they become symbols of hope.
The paintings are sober in color. Texture is used to highlight a strong contrast or to subdue a powerful form. The change of Jumana's art is the transformation from the joy of remembrance to the realization and assessement of a current situation.